High School - Fall Play (The Somewhat True Tale of Robin Hood)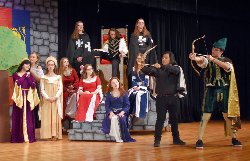 What

High School - Fall Play (The Somewhat True Tale of Robin Hood)

When

11/16/2019, 7:30 PM

–

9:00 PM

Where

Mars Area High School
Mars Area High School students will present The Somewhat True Tale of Robin Hood by Mary Lynn Dobson at 7:30 p.m. on Friday, Nov. 15, and at 1 p.m. and 7:30 p.m. on Saturday, Nov. 16, in the auditorium.
The story follows the swashbuckling, egocentric Robin Hood (Ethan Kemper) as he swaggers through his never-ending quest to win over the lovely damsel-in-distress Lady Marian (Anna Schauble). On his unpredictable journey through Sherwood Forest, Robin Hood and his Merry Men cross paths with the ever-scheming Sheriff of Nottingham (Sam Branch), the evil Prince John (Jessie Sines); and a good natured Town's Gal (Alyssa Machi).
Tickets are $7 per person at the door. No reserved seating. A portion of the proceeds benefits Mars Planet Foundation.
For more information, call (724) 625-1581.
Copy to Google Calendar
•
Download iCal Event